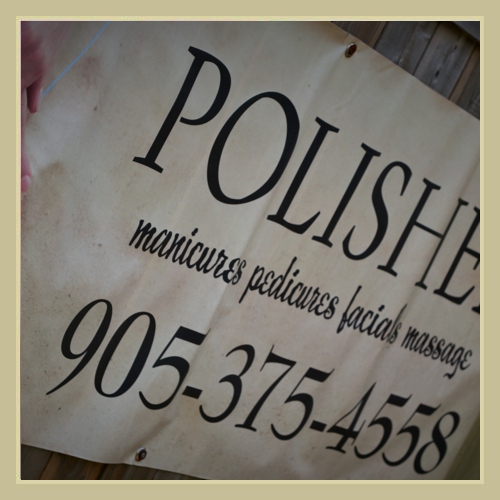 Donna Lemke on 17-Aug-16
Just left the spa "Polished " in Ardoch I enjoyed my pedicure / manicure that I had. The atmosphere was so relaxing. The building was very nice and new. Very clean!! Holly is very friendly and accommodating she makes you feel at home and she's very easy to talk to. I had a French manicure and pedicure very reasonable prices. I sure hope everyone will support her because we need a spa around here instead having to travel into Perth or Kingston. A very happy customer.
Dawn Joyce on 31-Aug-15
I have been taking my Mother to Holly for several years now, and have always been impressed with her kindness and compassion - she treats my elderly Mother with such loving care and makes her feel so very special every time. I find the location so peaceful, that I often just sit outside during Mom's treatments, enjoying the serenity of the area and, of course, all the happy birds flitting about the many feeders. Recently, Mom gave me a gift of 2 hours with Holly - anything I wanted. The hardest part was choosing from all the services offered. After much deliberation, I chose a 1 hour massage, and a 1 hour Reflexology Treatment. Wow! The massage was wonderful and, shall we say, just what the doctor ordered. I was putty in Holly's hands. The biggest surprise was the Reflexology Treatment (I picked it because I had never had professional reflexology done before and wanted to try it). I had no idea it would feel so good. I left feeling completely rejuvenated, and that night, slept like a baby - the first decent sleep in over a month. Holly has a definite gift - she likes making people feel wonderful, and does it so well. Kudos!!!!!!!
Catherine McIntyre on 28-Apr-14
I recently experienced a Reflexology session with Holly. When I arrived at her tranquil setting and made my way to her quaint guest house where her Polished Spa is located, I was immediately comfortable and felt very much at ease. The sensation I experienced during my one hour session exceeded my expectations. Holly has a gentle manner and very effective approach to how she conducted our session. We started with a warm, relaxing foot bath followed by a hot cup of tea while I settled comfortably on the treatment table. With the soft music playing in the background Holly begins her Reflexology sequence.. one foot at a time. From start to finish I was able to "walk" with her as she moved through each area of the body -- surprisingly -- all of your "body parts" are neatly contained at the bottom of each of your feet !! I was amazed at how certain contact positions were so directly related to how I felt ! For example - the stiffness in one of my shoulders and my neck were clearly identified during the procedure ! .. I even felt relief from Holly gently working certain areas. Once the session was complete, I walked away feeling the same sensation that I experience when I have had a one hour full body massage -- I felt "chilled" and wanted to go home and have a nice hot Epsom salts bath :) I have had Reflexology in the past and felt that it was "ok".. but this time -- with Holly -- it felt amazing !! I would recommend going to Holly for Reflexology -- however -- I would also say that you should choose a day when you don't have to go to work following the session -- perhaps at the end of your day would be better timing -- that way you can fully relax once you arrive back home. I look forward to my next Reflexology session -- thanks Holly !! :)
Julie Rath on 29-Apr-13
I recently had the pleasure of spending a day at Polished with some of my girlfriends getting pampered. Holly transformed my nasty winter boot feet into pretty flip flop feet in one luxurious hour. The atmosphere of the spa cottage is so inviting and Holly is so much fun! I can't wait to go back for my Shellac manicure:) Do yourself a favour and book some pampering at Polished.
Nancy Riggers Sent from my iPad on 29-Apr-13
Hi Holly! I had a wonderful time at your spa on Saturday! It was so relaxing watching the birds while you did my pedi! Can't wait to do it again! Thank you.
Sonya Sedgwick Sent from my iPad on 20-Apr-13
Just back from my second visit to Polished Spa and oh my! the experience was once again luxurious, completely personal, and relaxing. The scenery and view from the spa is so amazing. I never thought this type of experience could be offered without the high end spa price tag - such great value! It is great to go on your own or with a small group (2-4 people). I certainly know where I will be taking my mom for Mother's Day - win-win!