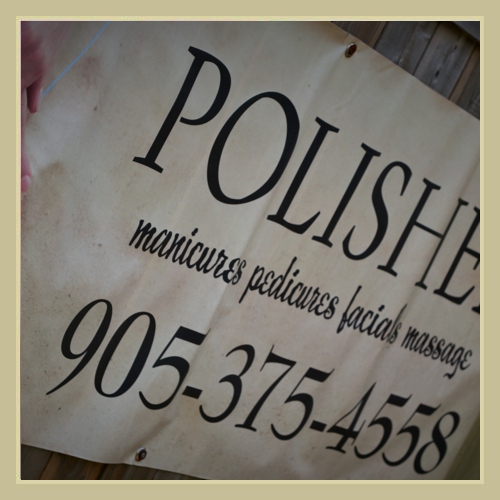 Julie Rath on 29-Apr-13
I recently had the pleasure of spending a day at Polished with some of my girlfriends getting pampered. Holly transformed my nasty winter boot feet into pretty flip flop feet in one luxurious hour. The atmosphere of the spa cottage is so inviting and Holly is so much fun! I can't wait to go back for my Shellac manicure:) Do yourself a favour and book some pampering at Polished.
Nancy Riggers Sent from my iPad on 29-Apr-13
Hi Holly! I had a wonderful time at your spa on Saturday! It was so relaxing watching the birds while you did my pedi! Can't wait to do it again! Thank you.
Sonya Sedgwick Sent from my iPad on 20-Apr-13
Just back from my second visit to Polished Spa and oh my! the experience was once again luxurious, completely personal, and relaxing. The scenery and view from the spa is so amazing. I never thought this type of experience could be offered without the high end spa price tag - such great value! It is great to go on your own or with a small group (2-4 people). I certainly know where I will be taking my mom for Mother's Day - win-win!
Bonnie Masters on 19-Jan-13
Hi Holly: I just wanted to thank you so much for the amazing experience that I had on my first visit to your quaint spa. The entire event was a relaxing and fun one. I just wanted to move right in! I am singing your praises for the wonderful Shellac manicure that you gave to me. Working at my wine store takes a toll on my hands and nails, so I wasn't sure how the Shellac would work for me, seeing as my hands are in sterilizers and cleansers all the time. Well, my nails look as perfect today as the day I had them done! Wow...didn't think that was possible. Thanks again Holly. I will definitely be back. Bonnie Masters, Grafton
Sandra (Sam) Reynolds on 29-Sep-11
Hi Holly. Just want to thank you again for bringing the 'Shellac' polish to your spa. Anyone who knows me, and where I work, will know that I can be found mixing paint (using paint thinners), and I spend a lot of time on a keyboard - but I think the fact that I constantly have my hands in a box of nails or screws so they can be weighed for a customer is the absolute best review for Shellac. Again thanks Sandra (Sam) Reynolds
Kelly Scottisheart on 24-Jun-11
LOVE the new digs! Had a great facial and a great time chatting with you! Always singing your praises :) We need to get you on Facebook ~ I'd even take care of it for you! See you SOON!!!!!
Rosalie on 21-May-11
I have been telling all my friends in Toronto about your spa. That you are a lovely girl & how professional you are & how clean & neat your room was. I felt very pampered even though I was having my legs waxed. I am so pleased that I have found you. I will wait till you are moved in your location in Grafton before I make an appt. for my pedicure.
Rebecca Haines on 18-May-11
Holly's work is truly a gift! I have to say that her Hot Stone Massage at $70 beats St. Anne's Hot Stone Massage at approx. $380(? came in packs)!! Its not even the shocking difference in price its the personal experience, warmth, peacefulness, expertise and Holly's welcoming smile that make it the ultimate experience.......many thanks!!