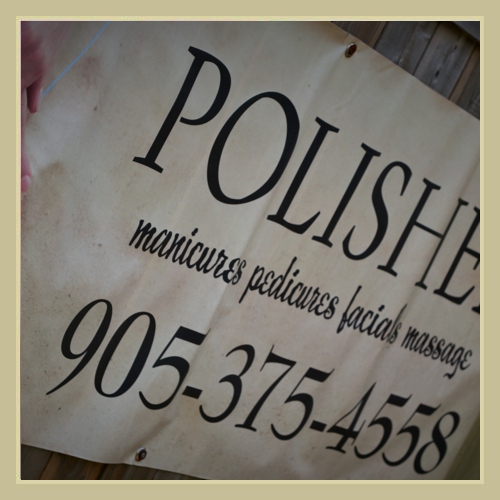 Judy Hanson on 13-August-18
Hi Holly, I had the most relaxing pedicure and manicure from Holly. I kept driving by the sign, I am glad I finally made an appointment. It was a good thing I was not driving as I was too relaxed. We need to keep Holly going, it is the only place in a large area. Not only did I get a great pedicure, Holly herself is,so relaxing herself. Judy
Nancy Smith on 08-June-18
Hi Holly, Just wanted to let you know that I love my nails and yesterday in Kingston 3 people , and I didn't know any of them mentioned how they liked my nails. The girl that cut my hair, our waitress and a clerk in the Body Shop... Thanks...Love my pretty toes too! Nancy
Donna Commerford on 28-May-18
First off thank you. The massage was incredible and my headache is gone. Yeah!!!! Thanks again. It was wonderful
Melanie Fyfe on 17-May-18
Hi Holly, I couldn't figure out how to do this through your website but here's my testimonial: Thanks so much for a fabulous pedicure today Holly - I feel truly pampered! My feet feel and look so good! It's always great chatting with you in your beautiful studio and the outside setting is totally serene and relaxing.....a lovely cup of tea is a nice touch too! I already loved your reflexology treatments and am now hooked on your pedicures so will be a regular customer, for sure! Thanks again - and I fell in love with your house and property! It is absolutely gorgeous!! xoxo Melanie
Julie Bisbicos on 03-Sept-17
Hi Holly Finally made it back to Burlington and going through some pictures. Just wanted to say Thank You for accommodating us gals- it's been months and months since the 4 of us have been able to relax together and chat without interruptions from kids, husbands and life in general. Because of you and your beautiful little spa we finally took care of ourselves! We love our toes! Thanks again! xo
Leanne Holland on 16-Oct-16
Hello Holly! We all enjoyed getting pampered by you. It was so nice to meet you. I am glad we are close and yes, I will text you when I am coming up north next....probably sometime in November. We (and the dogs) will get together for sure! Take care....enjoy the fabulous colours up there. Thanks so much again for making our weekend so enjoyable.
Julie Rath on 11-Sept-16
I have been a client of Holly's for years. I was very sad when she decided to move to her cottage in Ardoch 2 hours away. After driving the 2 hours this past weekend for pedicures with some friends, I totally understand her decision. The new spa location is even more beautiful than the last. As always Holly's service is top notch, professional and fun. Her spa is cozy, comfortable and very clean - exactly what you want for a relaxing experience. Thanks Holly for another great day - I look forward to making the trip again soon :)
Cathy Krentz on 28-Aug-16
Holly, I want to thank you for a wonderful afternoon at your Spa. Your new spa is most welcoming and very relaxing. It was a great start to our mother-daughter weekend. You and Michael have a wonderful home. We appreciated the tour and look forward to seeing some winter pics of the lake. Let me know if you find a slide to get that gravel in its proper location. We took your advice and had lunch at the restaurant you recommended in Westport. It was delicious and very reasonably priced. Thanks again, Holly, and we will be back in early November. Tell Michael we enjoyed the visit and you two take care of each other.
Donna Lemke on 17-Aug-16
Just left the spa "Polished " in Ardoch I enjoyed my pedicure / manicure that I had. The atmosphere was so relaxing. The building was very nice and new. Very clean!! Holly is very friendly and accommodating she makes you feel at home and she's very easy to talk to. I had a French manicure and pedicure very reasonable prices. I sure hope everyone will support her because we need a spa around here instead having to travel into Perth or Kingston. A very happy customer.